5G UPF: The Key Enabler of the New 5G Edge
In 5G, the control and user (data) planes are split (Control & User Plane Separation – CUPS) and deployed in a new Service Based Architecture (SBA). This provides the flexibility to deliver user plane functionality at the edge as well as the network core. And the User Plane Function (UPF) can be co-located with local and central data centers at both locations.
This enables multi-access edge computing (MEC), which delivers resources at the edge to support new low-latency, ultra-reliable, and mass-volume 5G applications. It also enables the application-specific, end-to-end assembly of connectivity and computing resources across a shared, multi-tenant 5G infrastructure (network slicing). In other words, the UPF is the prime enabler of new 5G applications and customer-specific edge services.
5G UPF: Pivotal Responsibilities
The 5G UPF is responsible for:
Radio Access Network (RAN)/Data Network (DN) interconnect

Packet inspection & application detection

Packet routing and data forwarding

QoS management & usage reporting
It must deliver these services under extreme throughput conditions, and it has to be 100% stable to meet ultra-reliable connectivity requirements. It also has to be as close to 100% accurate in application identification as possible for effective network slicing and orchestration of network functions.
However, application classification is a highly complex and resource-intensive process. It has become even more complicated with the increased use of encryption. In addition, the protocol signatures used in application classification must be continuously updated, making it difficult to maintain accuracy in application awareness for the UPF.
Maintain application awareness without impacting UPF performance and stability. A logical solution is to leverage 5G's service-based architecture to offload application classification from the UPF. However, if application identification is offloaded from the UPF controller, application ID (AppID) propagation is difficult.
The Solution: The Enea Qosmos DPI CNF for the 5G UPF
Enea overcomes this obstacle with the Qosmos ixEngine®, a traffic analytics and next-generation Deep Packet Inspection (NG DPI) engine. Application classification and AppID generation can be offloaded to Qosmos ixEngine, which is deployed as a containerized (or cloud-native) network function (CNF), fitting seamlessly into a cloud-native 5G SBA. This solution protects UPF stability and performance while delivering application identification with a level of accuracy and throughput that can only be provided by a commercial-grade DPI engine.
Accuracy and granularity in application identification is essential for tailoring connectivity, security and computing resources to particular user needs.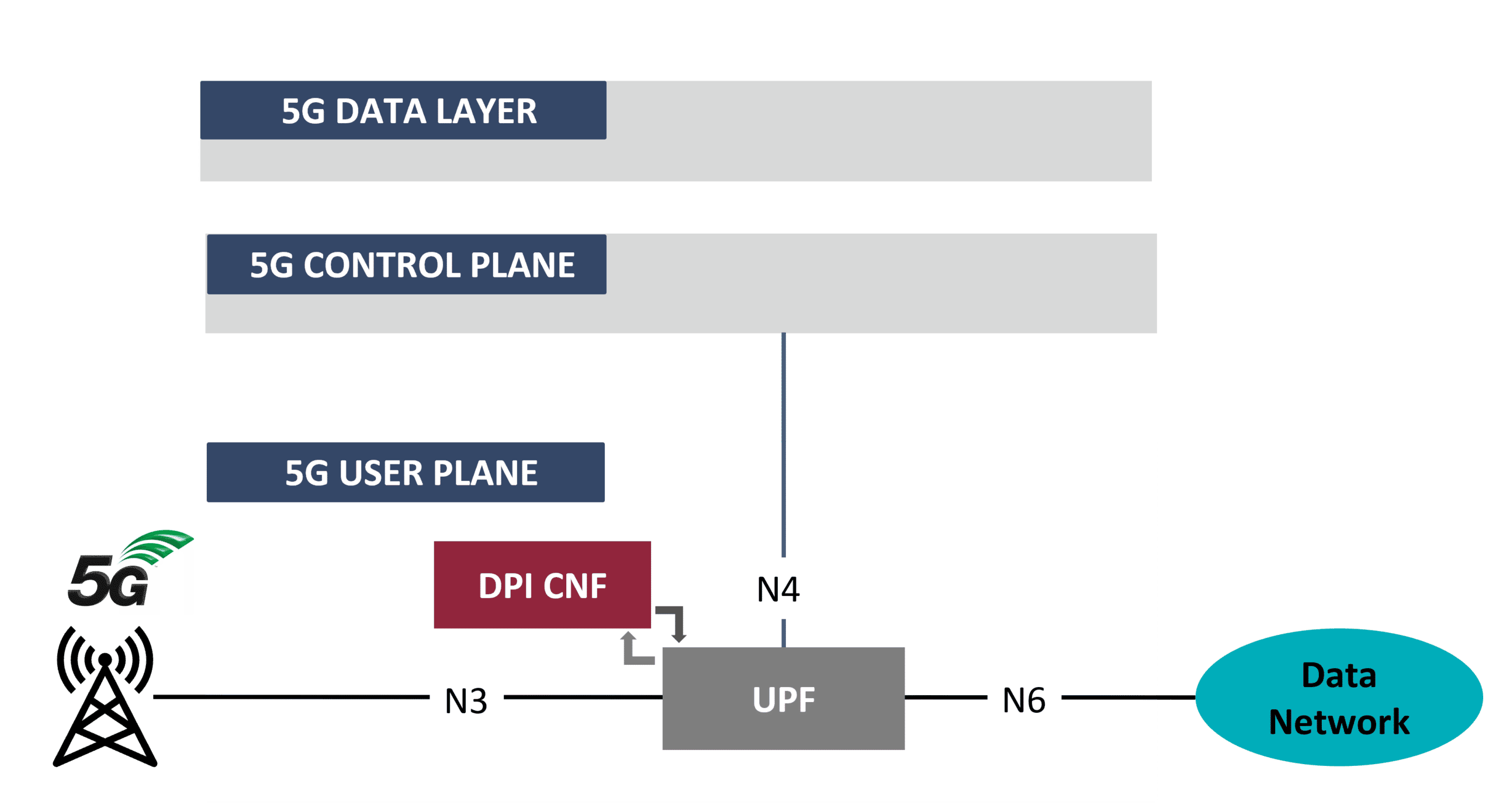 QOSMOS IXENGINE
Advantages for 5G UPF
Most accurate application classification

 on the market

Broadest protocol/application coverage

 in the industry (5500+ protocol signatures)

Unique coverage of IoT/IIoT, M2M/SCADA and Cloud/SaaS apps
Expertise in encrypted/evasive traffic

 coverage

First Packet Advantage for 

accurate classification from the 1st packet
CNF form factor

 for cloud-native 5G SBA architectures
Benefits for 5G UPF Solutions
Protects the performance and reliability of the UPF
Enables better customer experience and the development of new services

 through more effective and adaptable slicing

Accelerates time to market

 by offloading a highly complex technology

Eliminates the need to maintain DPI technology in-house
DATASHEET
Qosmos ixEngine: Next-Generation DPI for Maximum Traffic Visibility